Couture Wedding Dresses And Gowns At Our Stores
Find a Winnie Couture flagship location from the list below, or visit our STORE LOCATOR for a complete list of WINNIE COUTURE authorized retailers nearest you.
WINNIE COUTURE FLAGSHIP STORE
Explore, indulge, fantasize, fall in love. Request an appointment today to meet with one of our expert consultants, and find the Winnie Couture wedding dress of your dreams.
NATIONAL BRIDAL STORES CHAIN OF HIGH END WEDDING DRESSES & DESIGNER BRIDAL GOWNS
Hollywood Hottest Celebrities are wearing Winnie!
AS SEEN ON – Carrie Underwood, Sydney Sweeney, Kelly Clarkson, Jennifer Aniston, Taraji P.Henson, Lea Michele, Eva Marcille, Laura Marano, Kira Kosarin, Caylee Cowan, Candace Cameron Bure, Giuliana Rancic, Helen Hunt, Masiela Lusha, and many more…
PRESS
Featuring in numerous leading publications such as People, Modern Luxury, Brides, Inside Weddings, etc… Winnie has become trendsetter in the fashion and bridal industry. Her exquisite wedding dresses are highly sought after by editors and fashionistas around the globe.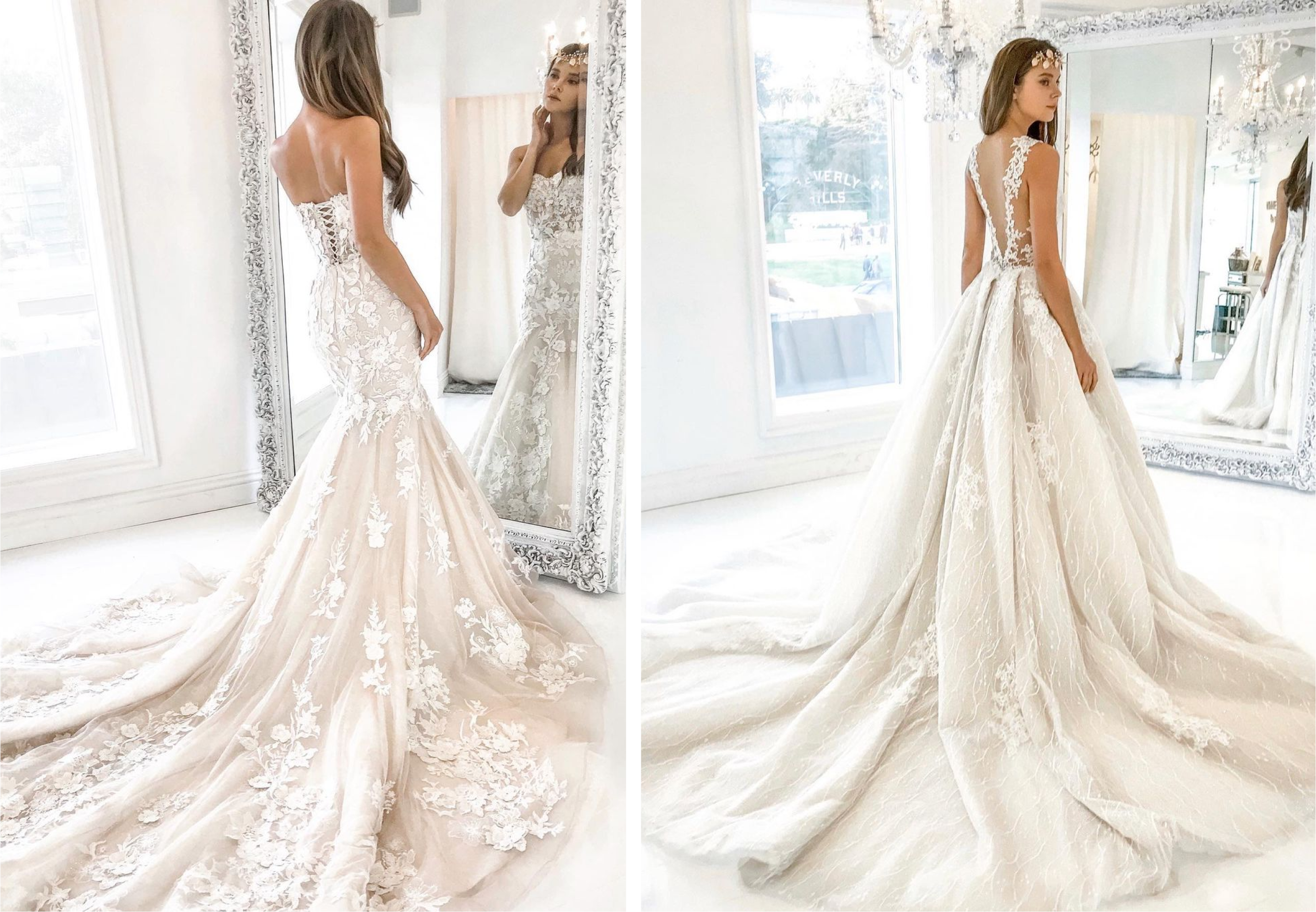 Begin your bridal journey with the Winnie Couture FLORENZ gown, a blush mermaid silhouette adorned in 3D floral appliqués and a horsehair edged train or opt for the Winnie Couture MINDY gown, featuring intricate lace, a high-neck, and a show-stopping train. Embrace...
read more
Winnie Couture is a high-end attire brand with a modern mix of classic elegant and sophisticated couture. It blends femininity and luxury to create wedding dresses that are flattering and timeless.
Headquartered in Beverly Hills, California, Winnie Couture was founded in 2001 by wife-and-husband duo Winnie and Chris Lee. Their passion and devotion to the bridal fashion industry have gained them continuous success. After just a few short seasons, the couple has positioned the Winnie Couture brand as one of the fastest growing, most-in-demand bridal collections across the country. In fact, in just less than five years, their wedding dresses have become available in over 150 stores. In 2009, Winnie and Chris debuted their first West Coast flagship in Beverly Hills, California. From the grand chandeliers, the lavish décor, to the intimate fitting spaces, every Winnie Couture flagship store is designed to deliver the ultimate, immersive Winnie experience. Winnie Couture wedding dresses are distributed through Winnie Couture flagship stores and finest retailers throughout the world.
Featured in prominent high-fashion publications such as People, Brides, The Knot, Modern Luxury, Glamour, etc… plus numerous appearances on National TV shows and Hollywood films, Winnie's profoundly feminine wedding dresses quickly became known for their immaculate craftwork and impeccable fit. Aside from the bridal collection, Winnie's meticulously luxurious red carpet designs have become favorites amongst industry insiders, Hollywood celebrities and fashionistas alike.
The company is progressively developing a range of distinctive luxury attires consistent with the brand's values and is internationally regarded as a prestigious leader in the wedding dresses and couture fashion industries.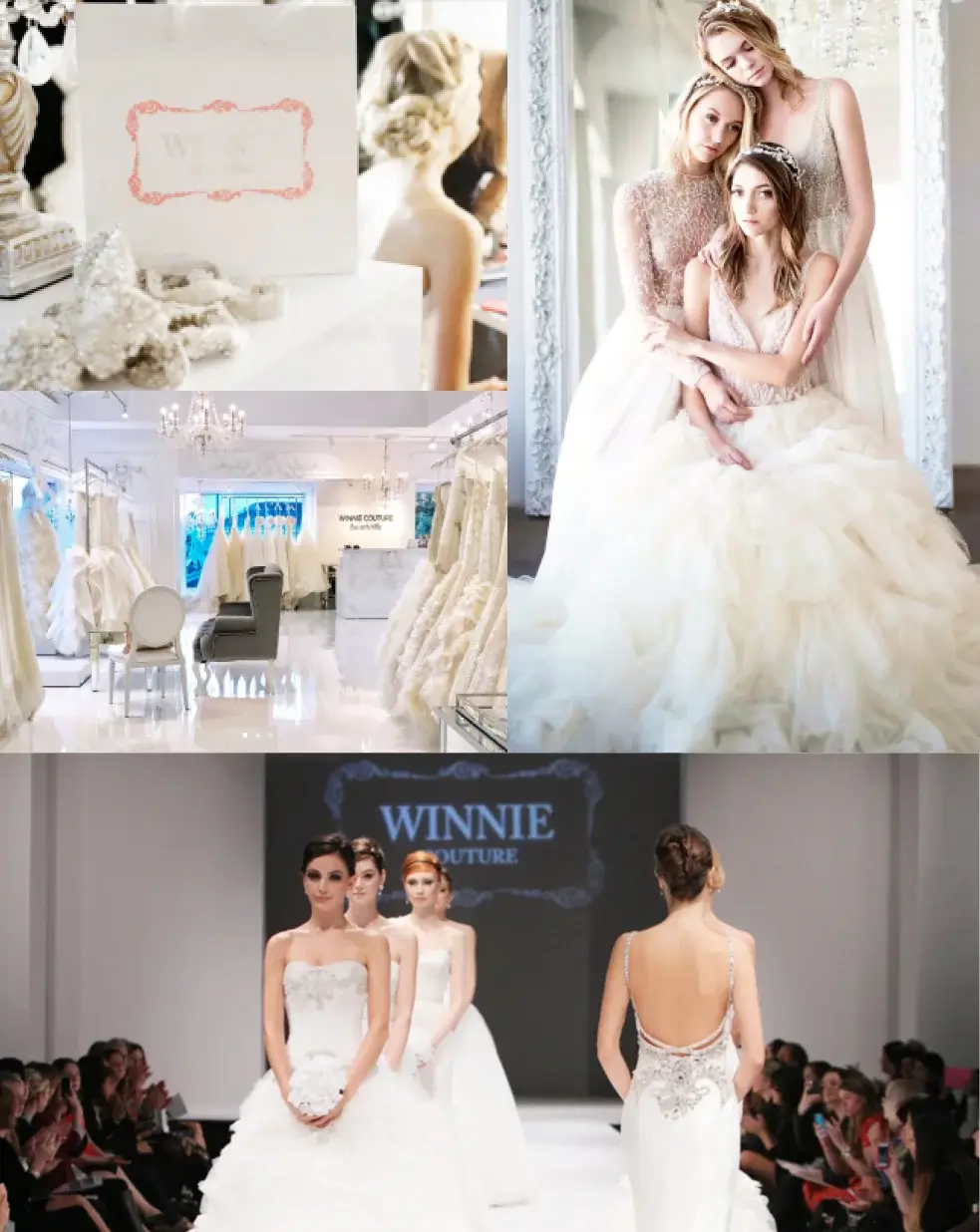 See what our brides are saying about us…We are so thankful for their kind words.
" My experience at Winnie was out of this world! Both the receptionist and the store manager treated me and my party extremely nice. I was able to find my perfect dress at Winnie for my special day! If you'd like to get pampered and feel special I would recommend going to Winnie because they provide exceptional customer service and have a variety of bridal dresses for every budget. "
" I am mesmerized by the experience I just had finding my perfect dress! Amazing service and selection. Beautiful dresses and beautiful place!! If you can't find or don't feel comfortable anywhere else this is the place you need to go to! You will feel like the princess you are in this beautiful store. "
" The women who work at this store are exceptional. They are incredibly classy. I already bought my gown at another Winnie location and the women here still let me try on my gown and put me in different veils and hair clips just so my mother could see me in them. This was really impressive to me, especially given the fact that these women work on commission and they knew going into this that they would never see a dime out of this appointment. They just did it out of the goodness of their hearts. For this, I will be eternally grateful, and they are worthy of 5 stars as an absolute minimum. For anyone interested in paying for high quality service and an amazing hand made gown, Winnie is the place for you. "